2021 WHSAA STATE SPIRIT COMPETITION
The 2021 State Spirit Competition will be held Thursday, Januray 28th for 2A/3A teams, and Friday, January 29th for 4A teams.
The WHSAA has received a variance from the Wyoming Department of Health to allow for two (2) spectators per participant at the 2021 State Spirit Competition at the Ford Wyoming Center, formerly the Casper Events Center.
Each participant will receive a unique password that will allow access to two (2) reserved seat tickets for the competition. The passwords can only be used one time. WHSAA will distribute the codes to the ADís of each school who will in turn distribute those passwords to the team participants.
Reserved participant seating will be on the south side of the arena and will be socially distanced in PODís. POD Seating was created to execute a safe seating environment, limiting crossover interaction between fans where available. POD seating is available in select groupings of 2 per participant.
Tickets will be available through the link below linking into SinclairTix.com. Tickets will go on-sale on Monday, January 25th at 12:00 p.m (Noon) and will be available online only. Tickets must be purchased in quantities of two (2) and will be assigned on a first come first serve basis.
STATE SPIRIT COMPETITION TICKET LINK
STATE SPIRIT COMPETITION MAIN PAGE
For those of you that are not able to make it to the State Spirit Competition, the NFHS Network will be streaming it live, for a minimal cost. Click on the logo below to access the NFHS Network's site. For Technical Support, please email: memberadmin@nfhsnetwork.com or call 877-978-2311.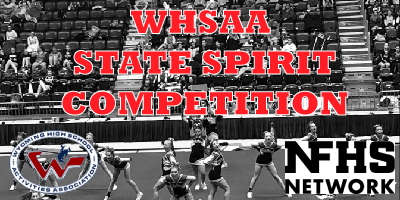 ---
CARE AND PREVENTION OF ATHLETIC INJURIES
Hybrid Course
Riverton High School
February 13, 2021
Contact Ross Anderson at randerson@fremont25.org or (307) 856-9491 with questions or to register for the course.
---
WHSAA BOARD OF DIRECTORS APPROVES FACE COVERING MANDATE - 11/16/2020
The WHSAA Board of Directors approved a face covering mandate for all winter sports and activities. This mandate will be for spectators as well as participants and coaches. Please see the updated Smart Start Guidelines and Sport Considerations below.
WHSAA SMART START SPORTS AND ACTIVITIES GUIDELINES - 12/2/2020 (PDF)
INDOOR TRACK AND FIELD - 12/11/2020 (PDF)
BOYS SWIMMING AND DIVING - 11/16/2020 (PDF)
ALPINE AND NORDIC SKIING - 11/16/2020 (PDF)
SPIRIT GROUPS - 11/16/2020 (PDF)
---
2020-21 OFFICIALS REGISTRATION
The 2020-21 Official's registration site is now available. Please go to our officials department and click on the OFFICIAL'S ONLINE REGISTRATION - DRAGONFLY link. There is also a quick instructional PDF on that page to walk you through getting registered and logging in.
---
WHSAA COVID-19 UPDATE
---
SAT/ACT PREP
The NFHS and many State Associations, including the WHSAA, support the SAT/ACT Donation Project to assist students, athletes and families with college entrance exam preparation. The SAT/ACT Donation Project has already helped over a quarter MILLION students. For more information, please click the following links:
SAT/ACT DONATION PROJECT FLYER (PDF)
---
THE PARENT SEAT
Being a parent of a student participating in activities can be a challenge. Sometimes in attempting to support your student, it can actually have a negative impact. This short six-minute video outlines 10 steps to being a positive parent. We want your student, and you as a parent, to have a positive experience. Click the link below.
---
UNDERSTANDING VAPING AND E-CIGARETTES
Vaping and E-Cigarettes have been an increasing health hazard to our students. This free course, offered by NFHSLearn, highlights the risks and misconceptions associated with vaping. We recommend parents and students view and discuss this current information. Click on the link below.
UNDERSTANDING VAPING AND E-CIGARETTES VIDEO LINK
---
INFORMATIONAL ARTICLES
GETTING SMART BUT ACTING FOOLISHLY-THERE IS A SOLUTION
HOW TO HELP PROTECT YOUNG ATHLETES FROM INJURY
THE TRUTH ABOUT SPORTS SCHOLARSHIPS
HIGH SCHOOL ACTIVITIES BRING COMMUNITIES TOGETHER
---
HEAD COACHES EXAMS
Coaches exams are now available on the Dragonfly Site. You must create an account on the dragonflymax.com site in order to take your coaches rules exam. Please make sure you have taken and passed the test in your sport before you coach your first contest. All head coaches are required to pass their respective tests with an 80% or higher.
DRAGONFLY REGISTRATION INSTRUCTIONS (PDF)
---
RULES VIDEOS
The WHSAA is creating the Rules Videos offline and posting them to NFHSLearn.com. All Rules videos will be avalaible once they are created by clicking this link: WHSAA RULES VIDEOS NFHS LEARN PAGE once you have created an account and logged in.
Please use the following document to create an account (if you already have an account on NFHS.org, you will just use that login information): NFHSLearn RULES CLINIC TUTORIAL (PDF)
Once you have viewed your Rules Video, you will receive a certificate stating that you completed the video. Save the PDF that it allows you to download and then you will need to upload the certificate into the Dragonfly Software. These are for Head Coaches and Officials. If you are an assistant coach, please do not upload the certificate.
---
MAKE THE RIGHT CALL
BECOME A HIGH SCHOOL OFFICIAL
---
CONCUSSION IN SPORTS – WHAT YOU NEED TO KNOW
In a continued effort to educate our coaches, officials, parents and students, we are pleased to announce a free course dealing with the importance of proper concussion recognition and management in high school sports. It is imperative that all parties involved are as educated as possible on the signs and symptoms of concussions for the safety of our students. Please click on the link below to register (if you are not a member of the NFHS Learn site, you will need to register to view the course) and take the 20 minute course. It could save a life!
---
POSITIVE SPORT PARENTING
As a parent of a student who participates in athletics, you make a huge difference in the quality of your childís sport experience, as well as what is being taught and learned by our youth. Please click on the link below and take a free class being offered by the NFHS to provide information and resources to help educate you on the importance of the role of the parent in school sports. If you are not a member of the NFHS Learn site, you will need to register to view the course.
POSITIVE SPORT PARENTING COURSE
---
ADM FIGURES FOR THE 2020-22 RECLASSIFICATION CYCLE
The following numbers will used for the WHSAA reclassification cycle for 2020-22. These figures were obtained from the spring ADM's turned in (WDE600) by each School District to the State Department of Education. The ADM's from grades 7-10 determine the 2020-21 figure and the ADM's from grades 6-9 determine the 2021-22 figure. The average of those two figures will be used for classification purposes.
RECLASSIFICATION STRUCTURES - 2020-21 and 2021-22
---
BOARD ACTION
---
2020-21 MEDIA INFORMATION
In order to facilitate the disbursement of media passes for all WHSAA sponsored district, regional, and state activities, the WHSAA will be working in conjunction with the Wyoming Association of Broadcasters and the Wyoming Press Association.
---