NEW ADMINISTRATOR TRAINING
The New Administrator Training class will be held August 9th, 2023 in Casper at the WHSAA office at 6571 E. 2nd Street and is designed to get the new and veteran administrator off to a positive and successful start to the school year. This orientation will provide information that will assist in keeping each school district in good standing with the WHSAA by knowing and understanding the rules and regulations for both students and schools.
---
BASKETBALL MECHANICS CAMP
Our WHSAA Basketball Officials Camp will be Saturday, June 3 and Sunday, June 4, 2023 at Natrona County High School. Registration will begin at 8:30 am on Saturday in the PE Classroom located on the Southwest corner of the MAC. We will start at 9:00 am on Saturday with classroom instruction and go until about 3:00 pm on Sunday. We will focus entirely on officiating boys games and evaluating/critiquing officials. We are working on a former NBA official for a guest speaker.
BASKETBALL MECHANICS CAMP REGISTRATION FORM (PDF)
---
PREVENTION & CARE OF ATHLETIC INJURIES
1.5 PTSB Credits

June 6 & 7 in Sheridan
June 12 & 13 in Guernsey
July 29 & 30 in Pinedale
July 31 - Aug 2 in Kemmerer
August 6 & 7 in Newcastle

INSTRUCTOR: Jenna Walker, LAT, ATC
EMAIL: jwalkerlat@gmail.com
REGISTRATION & MORE INFORMATION: www.mysportsmedicinepros.com
COST: $150
PTSB CREDIT: 1.5
NOW OFFERING: Refresher Course - coaches who have taken this course before but would like to sharpen their skills in taping, wrapping, injuries, & concussions. See above for course dates. Cost $130. PTSB Credit: 1.5 (if applicable).
**********************************
ATHLETIC TAPING AND WRAPPING
This course is intended to assist coaches with relearning of taping and wrapping. Several WY coaches do not have an athletic trainer to assist in these daily tasks so it is important that they fully understand and feel comfortable with applying the different techniques on the athletes. This course will also expand on Care & Prevention of Athletic Injuries and show more techniques that may be useful for them to assist their athletes.
1 PTSB Credit

June 14 in Guernsey
Aug 2 in Kemmerer
Aug 8 in Newcastle
REGISTRATION & MORE INFORMATION: WEBSITE
---
FOOTBALL MECHANICS CAMP
Our Football Officials Camp is scheduled for Thursday, June 15 and Friday, June 16, 2023 in Torrington. Registration will begin at 2:00 pm on Thursday at Torrington High School. We will have a classroom session on Thursday and officiate scrimmages on Friday morning at Torrington High School. Included with this memo is a tentative agenda. A finalized agenda and additional camp details will be sent out closer to the camp date. There will be no cost for the camp! The WHSAA has agreed to pay for all costs to help recruit and retain officials.
FOOTBALL MECHANICS CAMP REGISTRATION FORM (PDF)
---
VOLLEYBALL MECHANICS CAMP
Our WHSAA Volleyball Officials Camp is scheduled for Saturday, July 8, 2023. We will be meeting at our WHSAA Office at 6571 East Second Street.

This is the only volleyball camp that we have scheduled for the summer of 2023. You can check our official's website to see if you need to attend this camp. Our website address is www.whsaa.org. Go to officials and then volleyball. If you need further help, please feel free to contact Lana or myself at the WHSAA office at (307) 577-0614.
VOLLEYBALL MECHANICS CAMP REGISTRATION FORM (PDF)
---
DIVING MECHANICS CAMP
Our diving clinic will be held at the WHSAA office at 6571 East 2nd Street in Casper on Saturday, August 12, 2023, from 10:00 am – 3:00 pm.
DIVING MECHANICS CAMP REGISTRATION FORM (PDF)
---
STATE FAIR PRACTICE SCHEDULE
Douglas High School will hold athletic practices for students in grades 9-12 who are attending the Wyoming State Fair from August 15-19. All participants must have a current physical, an emergency medical release, and insurance information to be able to participate which can be found on the WHSAA School Physical Examination (A7-A8). Please send all documents to Doug Hughes at dhughes@ccsd1.org. Middle School students will not be able to participate so schools should make alternative arrangements. Schedule times are subject to change at the discretion of the coaches.
STATE FAIR PRACTICE SCHEDULE (PDF)
---
HEAD COACHES EXAMS
Coaches exams are now available on the Dragonfly Site. You must create an account on the dragonflymax.com site in order to take your coaches rules exam. Please make sure you have taken and passed the test in your sport before you coach your first contest. All head coaches are required to pass their respective tests with an 80% or higher.
DRAGONFLY REGISTRATION INSTRUCTIONS (PDF)
---
RULES VIDEOS
The WHSAA is creating the Rules Videos offline and posting them to NFHSLearn.com. All Rules videos will be avalaible once they are created by clicking this link: WHSAA RULES VIDEOS NFHS LEARN PAGE once you have created an account and logged in.
Please use the following document to create an account (if you already have an account on NFHS.org, you will just use that login information): NFHSLearn RULES CLINIC TUTORIAL (PDF)
Once you have viewed your Rules Video, you will receive a certificate stating that you completed the video. Save the PDF that it allows you to download and then you will need to upload the certificate into the Dragonfly Software. These are for Head Coaches and Officials. If you are an assistant coach, please do not upload the certificate.
---
2022-23 OFFICIALS REGISTRATION
The 2022-23 Official's registration site will be available July 5th, 2022. Please go to our officials department and click on the OFFICIAL'S ONLINE REGISTRATION - DRAGONFLY link. There is also a quick instructional PDF on that page to walk you through getting registered and logging in.
---
RECRUITING OFFICIALS
---
TITLE IX AT 50 - MOMENT OF MAGNITUDE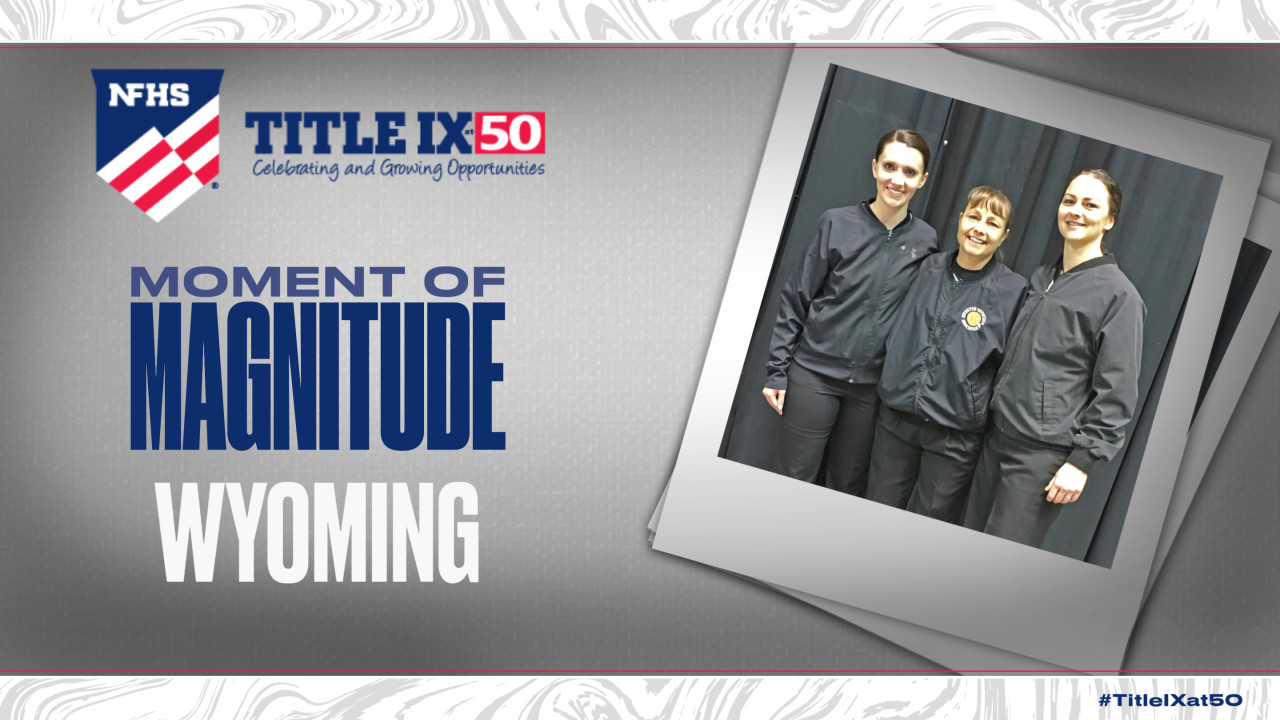 Annie Humphrey, Leann Quayle & Jessica Fortner (L-R) became the first all-female officiating crew in Wyoming history to officiate a state basketball championship game in 2017. The @WHSAA_307 previously had other females officiate championships but never an all-female crew. #TitleIXat50
---
TITLE IX AT 50 - DALE ANN MEEKER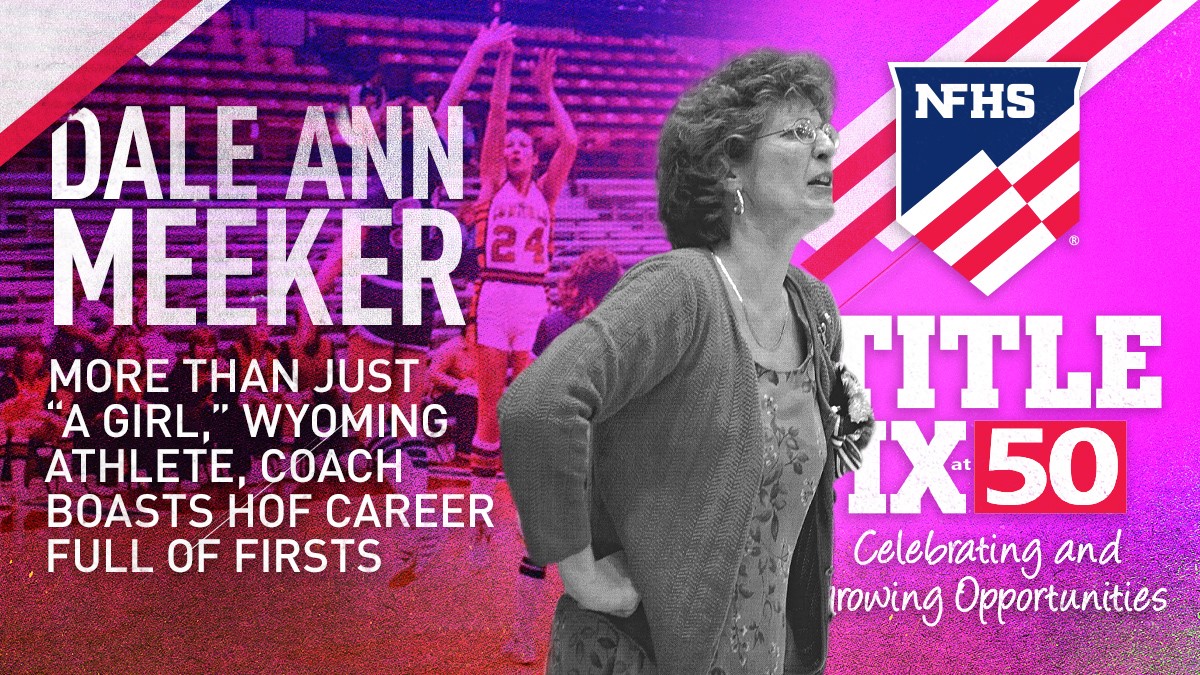 Dale Ann Meeker's multi-sport "career of firsts" at Wyoming's Powell High School saw her compete in the Wyoming High School Activities Association's (WHSAA) first annual girls state track meet and first unofficial girls state basketball title game. She later received the first women's basketball scholarship offered by the University of Wyoming.
Following a hall of fame collegiate career, Meeker embarked on a remarkable 39-year coaching career that was highlighted by 15 years at the helm of the Powell girls basketball program. In that role, she was recognized as the Wyoming Class 3A Coach of the Year and was a five-time conference coach of the year. She also coached a team of all stars from Wyoming and Colorado that participated in Belgium.
Meeker's other endeavors include 24 years as a middle school boys and girls track coach, four years as a junior varsity basketball coach, and two years as a middle school basketball coach. She also served as a member of the Governor's Council on Physical Fitness and Sport, co-chair of the Simpson Committee (which selects Wyoming's senior male and female athletes of the year), and is a member of the University of Wyoming Hall of Fame Selection Committee. #TitleIXat50
---
TITLE IX AT 50 - JAN JOHNSON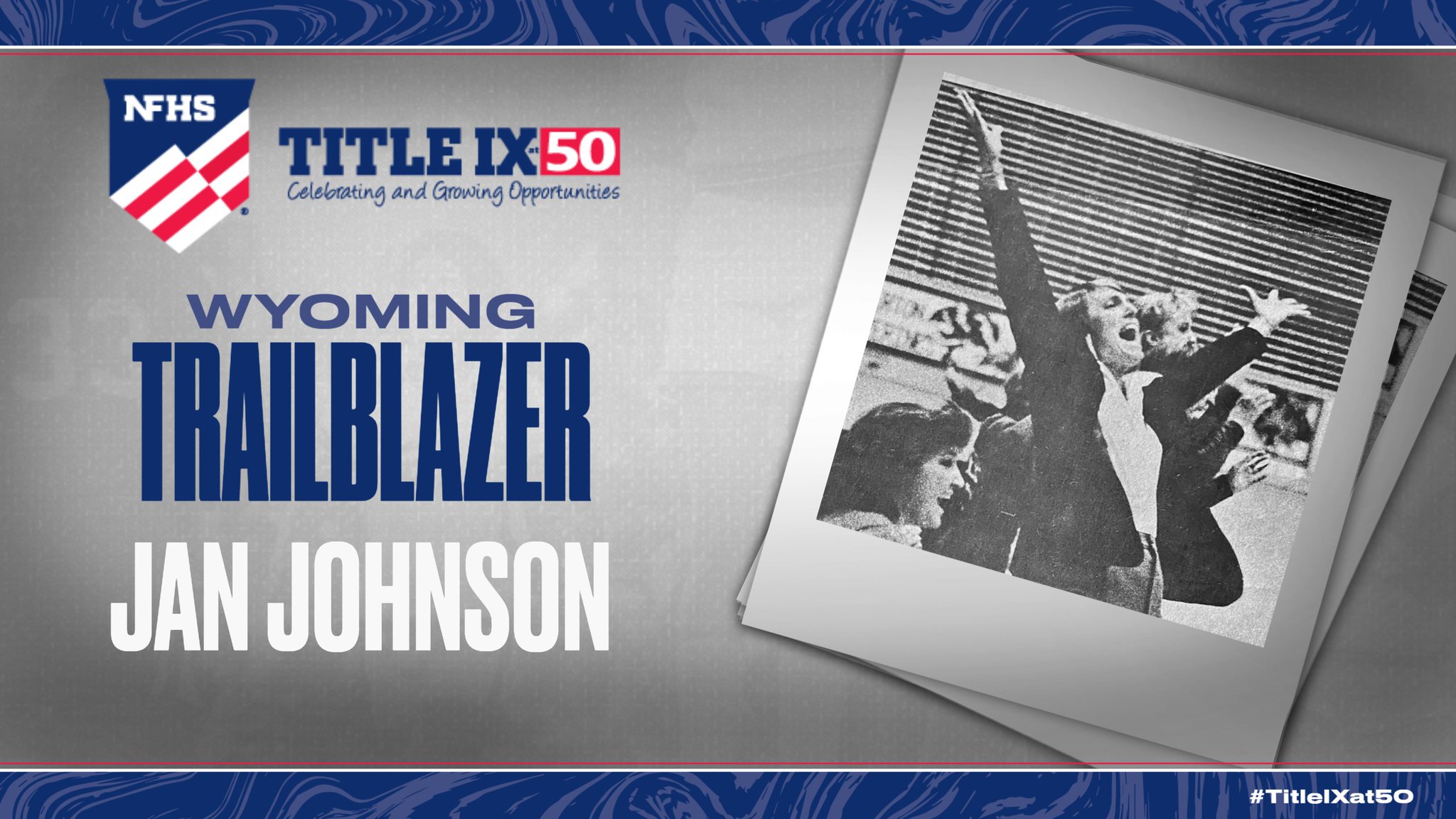 In 1979, Jan Johnson arrived in Ten Sleep, WY, a young post-college athlete looking to instill lessons with the same vigor as female coaches who fought for her opportunities. Her 30+year career included a HOF-worthy run as AD, coaching volleyball, basketball & Track, & teaching K-12 PE.
Seven years after later moving to Buffalo (WY) HS, Johnson became the school's 1st female athletic director in '92 – a position she held for nearly 20 years. A '87 & '93 coach of the year, Johnson's volleyball teams won a state championship & were 4-time state semifinalists.
In 2010, Johnson was recognized as the Wyoming Athletic Director of the Year, inducted into the @WYOcoaches Hall of Fame, received the @NIAAA9100 State Award of Merit, & was a finalist for the @nhsaca Athletic Director of the Year.
---
SAT/ACT PREP
The NFHS and many State Associations, including the WHSAA, support the SAT/ACT Donation Project to assist students, athletes and families with college entrance exam preparation. The SAT/ACT Donation Project has already helped over a quarter MILLION students. For more information, please click the following links:
SAT/ACT DONATION PROJECT FLYER (PDF)
---
THE PARENT SEAT
Being a parent of a student participating in activities can be a challenge. Sometimes in attempting to support your student, it can actually have a negative impact. This short six-minute video outlines 10 steps to being a positive parent. We want your student, and you as a parent, to have a positive experience. Click the link below.
---
UNDERSTANDING VAPING AND E-CIGARETTES
Vaping and E-Cigarettes have been an increasing health hazard to our students. This free course, offered by NFHSLearn, highlights the risks and misconceptions associated with vaping. We recommend parents and students view and discuss this current information. Click on the link below.
UNDERSTANDING VAPING AND E-CIGARETTES VIDEO LINK
---
INFORMATIONAL ARTICLES
GETTING SMART BUT ACTING FOOLISHLY-THERE IS A SOLUTION
HOW TO HELP PROTECT YOUNG ATHLETES FROM INJURY
THE TRUTH ABOUT SPORTS SCHOLARSHIPS
HIGH SCHOOL ACTIVITIES BRING COMMUNITIES TOGETHER
---
MAKE THE RIGHT CALL
BECOME A HIGH SCHOOL OFFICIAL
---
CONCUSSION IN SPORTS – WHAT YOU NEED TO KNOW
In a continued effort to educate our coaches, officials, parents and students, we are pleased to announce a free course dealing with the importance of proper concussion recognition and management in high school sports. It is imperative that all parties involved are as educated as possible on the signs and symptoms of concussions for the safety of our students. Please click on the link below to register (if you are not a member of the NFHS Learn site, you will need to register to view the course) and take the 20 minute course. It could save a life!
---
POSITIVE SPORT PARENTING
As a parent of a student who participates in athletics, you make a huge difference in the quality of your child's sport experience, as well as what is being taught and learned by our youth. Please click on the link below and take a free class being offered by the NFHS to provide information and resources to help educate you on the importance of the role of the parent in school sports. If you are not a member of the NFHS Learn site, you will need to register to view the course.
POSITIVE SPORT PARENTING COURSE
---
ADM FIGURES FOR THE 2022-24 RECLASSIFICATION CYCLES
The following numbers will used for the WHSAA reclassification cycle for 2022-24. These figures were obtained from the spring ADM's turned in (WDE600) by each School District to the State Department of Education. The ADM's from grades 7-10 determine the 2022-23 figure and the ADM's from grades 6-9 determine the 2023-24 figure. The average of those two figures will be used for classification purposes.
RECLASSIFICATION STRUCTURES - 2022-23 and 2023-24
---
BOARD ACTION
---